These tender gluten free zucchini muffins are made with healthy fats and some whole grains, and they're relatively low sugar. Add chocolate chips, raisins, or chopped nuts.
These muffins are healthy-ish
Moist, tender, only lightly sweet and still really flavorful, these gluten free zucchini muffins are healthier than most, but definitely not "diet" muffins. They're made with a combination of an all purpose gluten free flour blend and whole grain oat flour, and of course tons of zucchini (insert zucchini emoji here why isn't there one?).
There's only half a cup of sugar in the whole dozen+ batch of generously-sized muffins. I used to make them with raisins all the time, but I've transitioned to using chocolate chips almost exclusively. There aren't that many mix-ins and for the love of Mike even just a few chocolate chips are so good in muffins.
Tips to making these muffins
I've also switched to making about 12 muffins from making nearly double that with the same amount of muffin batter. I just love a muffin with a true muffin top, so I now fill those muffin cups all the way to the top.
Filling the wells to the top, you may get 12 muffins or you may get more. It will depend on the size of the wells in your muffin tin.
I'm pretty sure I'm the only one in my family who cares about the beauty of the muffins at all. But a muffin top has a slightly crisp texture around the edges that a muffin without a true top simply doesn't.
Draining the zucchini
The batter mixes up very easily. You do have to squeeze as much water out of the zucchini as possible or you'll end up with batter that's way too wet.
A kitchen towel with a flat weave (a tea towel) works fine, but a fine mesh bag works even better. I have a nut milk bag that has dedicated its life to draining my zucchini.
Why drain zucchini in the first place, you ask?
Some recipes are formulated to be made with zucchini that hasn't been drained of excess moisture, but zucchini vary a ton in their moisture content from one to the next. That makes it very difficult to control for the amount of moisture in your zucchini versus my zucchini. Or even in two of my very own zucchini.
Never attempt to bake with one of those enormous zucchini that you left for a day too long in the garden during the hottest days of the year. If your zucchini has been left to grow for too long, past a certain point of growth it's just gaining water.
Even if you're baking with appropriately-sized zucchini, there is a fair amount of variation in moisture content. By squeezing the water out of your grated zucchini, we're controlling for that.
A muffin batter that has too much water will expand quickly in the oven. The muffins would look puffy when they're just baked, but they'd sink in the middle as they cooled and before we know it, you're commenting on this post that the recipe is terrible. 😳
Ingredients and substitutions
Dairy
These muffins aren't made with butter, so there's no need to replace the fat. But if you can't have dairy, you'll need to replace the buttermilk.
My favorite way to replace buttermilk is half plain yogurt, half milk. If you can have dairy, you can use dairy ingredients. If not, use nondairy plain yogurt and unsweetened plain nondairy milk, like almond milk.
Coconut oil
The virgin coconut oil that's called for in this recipe is the jarred kind that's solid at room temperature. Well, in the middle of the summer in my house, it tends to be kind of a liquid—but you know what I mean.
If you don't have coconut oil, you can use vegan butter or even unsalted butter in its place. Nearly any fat that is mostly solid at room temperature should work.
Eggs
There are a lot of eggs in this recipe, so I don't recommend replacing them with an egg replacer. With this many eggs, you really need a different recipe. So sorry!
Oat flour
I never buy oat flour, but I bake with it all the time by grinding my own oat flour in a blender. If you can't have oats, although certified gluten free oats are safe on a gluten free diet, try replacing the oat flour in this recipe with quinoa flakes.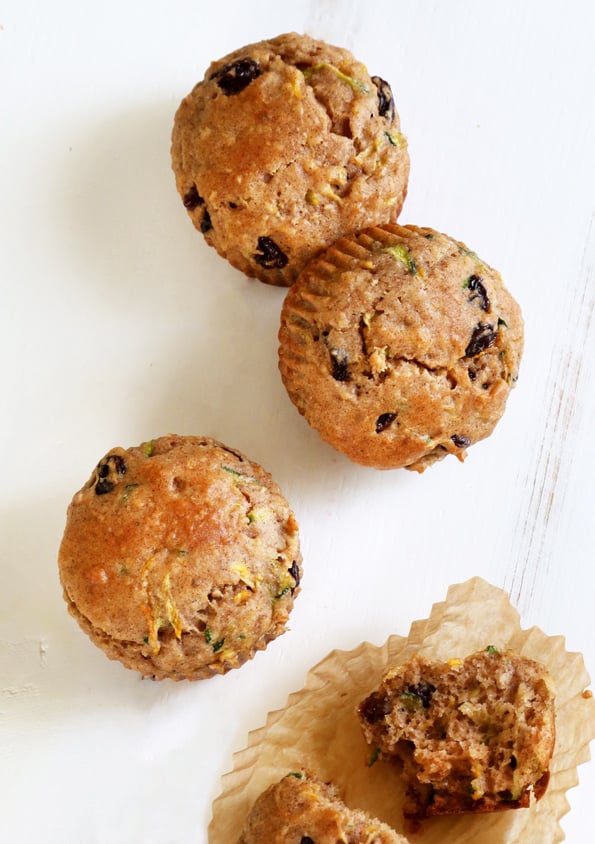 The post Gluten Free Zucchini Muffins | On the Healthy Side appeared first on Great gluten free recipes for every occasion..