These easy gluten free savory muffins have plenty of bold cheese flavor, and no refined sugar—but they're still soft and tender inside, with a thin, crispy crust.
What's special about this muffin recipe?
These muffins are in a totally separate category from any of our other muffins. They're free of the refined sugar that you'll find in all classic sweet muffins, and only have a little kiss 😗 of honey.
I don't mean to suggest that I think all sugar is bad, because I really don't think it is. But these muffins don't have much of it at all, and you can even leave out the honey if you insist (the muffins won't rise quite as much or be as tender).
Unfortunately, you can't just take a classic, basic recipe like our easy gluten free muffins recipe, take out the sugar, add some cheese, and bake up some moist and tender savory muffins.
Sugar isn't just a sweetener. It's also a major source of the tenderness of all the sweetened baked goods we eat and enjoy.
For the right tenderness inside, and the thin crispy layer outside these muffins, we have to go another way.
How do I make my savory muffins moist?
When you remove the sugar, your muffins can easily turn out very dense and almost chewy if you're not careful. So we add some starch to lighten the flour blend, a touch of honey, and plenty of buttermilk.
The crumb is super soft and tender, but it's the cake-like texture you'll find in sugar-sweetened muffins. Be sure not to replace the buttermilk with plain milk of any kind, since it's doing a lot of good work in this recipe.
(Please scroll down to the Ingredients and substitutions section above the recipe below. You'll find ways to replace the buttermilk effectively, whether you can have dairy or not.)
Can I freeze these gf savory muffins?
Yes! These muffins freeze amazingly well. They do take a bit longer to defrost than their sweet cousins, though.
I recommend cooling the muffins completely to room temperature, then lining them up on a small baking sheet. Place the baking sheet in the freezer until the muffins are firm.
Then, place the frozen muffins in a round freezer-safe container with a lid, and stack them on their sides. I find that a back-to-front-to-back-to-front lineup works well for maximizing space in the container.
To defrost, you can leave a couple frozen muffins out on the kitchen counter overnight (covered with a dome or cloth, so they don't dry out). You can also defrost at 50% power in your microwave. Guess which option my teenagers choose?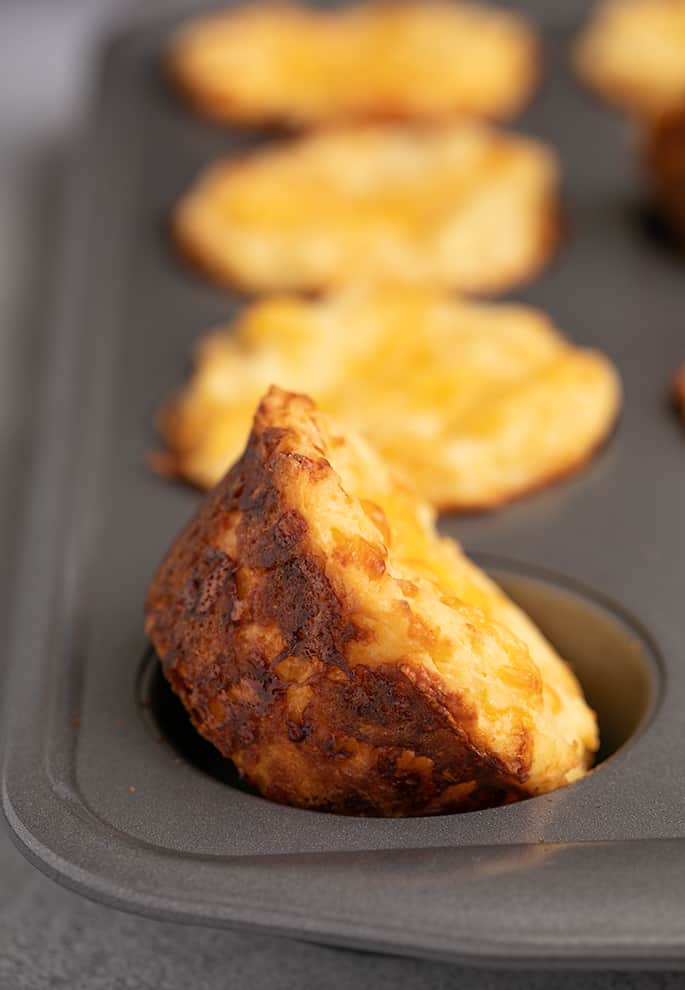 Can I make these muffins without cheese at all?
No, you can't just leave out the cheese. You can try replacing it with dairy-free cheese if you can't have dairy (please see the Ingredients and Substitutions section below for details).
I prefer this recipe with freshly shredded cheeses, instead of pre-shredded. The pre-shredded kind has added ingredients to prevent clumping, and those will dry out the muffins a bit.
If you'd like a muffin without any cheese, I recommend our whole grain superfood muffins. They're so hearty, packed with vegetables, and very easy to customize—and they don't even use an all purpose gluten free flour at all.
Ingredients and substitutions
Dairy
There's butter, buttermilk, and cheese in this recipe. As is usually the case, cheese is the hardest thing to replace with a dairy-free substitution.
For the butter, I recommend using vegan butter. Miyoko's Kitchen and Melt brands are my favorite. I don't recommend using more oil, since the muffins won't brown very well.
For the buttermilk, you can always substitute half plain dairy-free yogurt and half unsweetened almond milk, by volume. If you can have dairy but don't have buttermilk, try that using dairy ingredients.
For the cheese, dairy-free cheese has come a long way. I would try Violife brand, but Daiya is also quite good these days. If you use pre-shredded cheese, you may need a bit more liquid to mimic the proper texture of the raw dough.
Eggs
There are two eggs in this recipe. You can try replacing each of them with a "chia egg" (1 tablespoon ground white chia seeds + 1 tablespoon lukewarm water, mixed and allowed to gel).
Honey
If you can't have honey, you can try using 3 tablespoons pure maple syrup. I would also reduce the buttermilk by 1 tablespoon.
This is the one rare instance where you can leave out an ingredient, but your muffins will be less tender. They'll also rise a bit less, but the tenderness is the real issue.
Cornstarch
If you can't have cornstarch, try replacing it with arrowroot powder. You can also try using potato starch.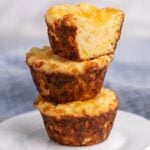 Gluten Free Savory Muffins
These easy gluten free savory muffins have plenty of bold cheese flavor, and no refined sugar—but they're still soft and tender inside, with a thin, crispy crust.
Ingredients
2

cups

all purpose gluten free flour blend

(I used Better Batter; click through for details)

1

teaspoon

xanthan gum

omit if your blend contains it

¼

cup

cornstarch

2 ¼

teaspoons

baking powder

¾

teaspoon

kosher salt

1 ½

teaspoons

minced dried onion

optional

2 ¼

ounces

Parmigiano-Reggiano cheese

finely grated

4

ounces

sharp cheddar cheese

grated (plus more for sprinkling)

1 ¼

cups

buttermilk

at room temperature

4

tablespoons

unsalted butter

melted and cooled

2

tablespoons

neutral oil

(like canola, vegetable or grapeseed)

2

tablespoons

honey

2

eggs

at room temperature, beaten
Instructions
Preheat your oven to 350°F. Grease the wells of a standard 12-cup muffin tin and set it aside.

In a large bowl, place the flour blend, xanthan gum, cornstarch, baking powder, salt, and optional dried onion. Whisk to combine well.

Add the grated cheeses, and mix to coat them in the dry ingredients and evenly distribute them in the mixture. Set the bowl aside.

In a medium-size bowl, place the buttermilk, melted butter, oil, honey, and eggs, and whisk vigorously to combine well.

Create a well in the center of the large bowl of dry ingredients and add the wet ingredients. Mix until just combined. The muffin batter will be thick but soft.

Using a spring-loaded ice cream scoop or two spoons, fill the prepared wells of the muffin tin almost to the top with the batter. Smooth the tops with moist fingers. Sprinkle the tops lightly with a few more shreds of cheddar cheese.

Place the muffin tin in the center of the preheated oven and bake for about 22 minutes, or until a toothpick inserted in the center of the middle muffin comes out with no more than a few moist crumbs attached.

Remove the tin from the oven and allow the muffins to cool for about 5 minutes before transferring to a wire rack to cool until no longer hot to the touch. Serve warm.
The post Gluten Free Savory Muffins appeared first on Great gluten free recipes for every occasion..