These glazed gluten free donut holes are light and airy with that thin glaze that crackles when you bite into them. Just like the donut shop!
The (relative) importance of gluten free donut holes
When my gluten free son was little, my heart broke when I'd think of the things he couldn't eat, and might never even try. Dunkin Donuts munchkins seemed to be the most common birthday treat that parents would bring to school, and my kid couldn't touch them.
Good thing he doesn't read the blog, because he would kill me for sharing this, but when he was about 7 or 8, he wondered aloud "what munchkins might taste like." You can guess what happened next.
I know that with all of the struggles in the world, not having the donut that everyone else has is not at all important. But when your kid is little, it means everything to them. So it meant everything to me, as his mom—and that's why I started this blog in the first place in 2009.
The donut dough from page 151 of GFOAS Bakes Bread makes the perfect Dunkin Donuts donut holes. And the yeast-raised gluten free donuts recipe from here on the blog works great, too.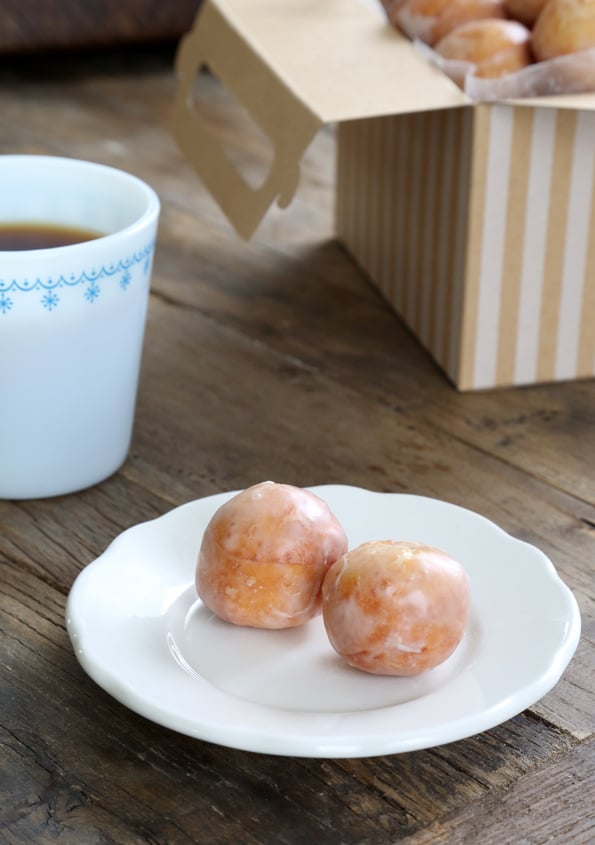 Which gluten free donut dough is 'better'?
The yeast-raised donut dough recipe here on the blog works beautifully. It's one of the best old-style gluten free bread dough recipes I have, in fact. If you're looking for more gluten free donuts recipes, we've got those too.
If you can't have dairy, I recommend using the blog recipe for reasons explained below in the "Ingredients and substitutions" section. If you can have dairy, and you have Bakes Bread, I would use the recipe from the book to make your gluten free donut holes. It's just easier to handle and makes for a slightly better-textured donut.
Shaping the donut holes
You can see from the photos that the donut holes are not perfect circles. Rather than rolling the dough into rounds, I use a small round cookie cutter to cut out shapes from the dough.
If you try to roll rounds of dough between your palms, you'll compress the dough and the fried donut holes won't be the lovely, light and fluffy little gems they are meant to be.
How to make a proper confectioners' sugar glaze
Many of the recipes here on the blog call for a simple confectioners' sugar glaze. Sometimes it's thicker, like when it's a glaze on top of our gluten free lemon pound cake. Here, it's relatively thin.
The glaze is made thicker or thinner by adding more, or less, liquid. In this donut holes recipe glaze, the liquid is milk, but it can be water, or even lemon juice like in the pound cake recipe.
I always try to make clear that the glaze is easier to thin with a bit more liquid than to thicken with more confectioners' sugar. But many of you have commented that your glaze isn't "working," or is disappearing into the baked goods you're using it to coat.
Once the concept is clear, it's much easier to make a glaze in whatever thickness you need. I'd like to offer some tips to ensure your success for this simple process.
A disappearing glaze
If your glaze is disappearing into your baked goods, there are two possible reasons. First, if your baked goods are at all warm, the warmth will melt the glaze and it will both run off and get absorbed.
Second, if your glaze is too thin, it will seem to disappear. "Too thin" is a relative judgment, though. For a recipe like these donuts, you want a very thin layer of glaze so that you can still see the donut hole itself through the glaze. That way, it practically shatters when you bite into it. *swoon*
If you are hoping for an opaque white glaze, you want it to be thicker. Go slowly as you add liquid. Begin with a paste that you almost can't stir, and add more liquid by the literal drop. 💧
If you've gone too far and added too much liquid, you can return the glaze to a paste by adding more confectioners' sugar. Then, begin again adding liquid by the drop to get the proper consistency.
It is harder to dial the thickness back in a precise manner by adding sugar very slowly. So I recommend thickening it completely, instead.
A too-thick glaze
If your glaze isn't spreading or won't cover the top or whole surface of the donut or donut hole you've dipped into it, it's too thick. It's very easy to thin a too-thick glaze. Maybe too easy.
Begin with a glaze that's a nearly-too-thick-to-stir paste. Add more liquid by the drop (of water, lemon juice, milk, or a combination) and stir thoroughly before adding more.
A glaze that has been sitting undisturbed for a bit will also thicken as the liquid will have begun to evaporate (which is how it "sets" on your baked goods). Just add more liquid by the micro-drop and stir thoroughly.
Deep frying dough
If you want properly puffy donut holes, you'll need to deep fry them. We've fully discussed using an Air Fryer to make yeast-raised donuts, and they turn out great. But they don't puff in precisely the same way as they do during deep frying.
If you simply won't deep fry, you can use a convection oven to bake the donut holes. An Air Fryer really is just a very small convection oven with a particularly powerful fan. But the results will be similar to an Air Fryer, and not fully puffed.
If you're willing to try deep-frying, keep in mind that oil that is hot enough (here, 350°F) will quickly seal the outside of the dough and prevent the dough from absorbing any oil. The oil that drains off the donuts after frying was sitting on the outside, and should drain off almost completely. Plus, frying doesn't heat up the kitchen like the oven does.
Ingredients and substitutions
Dairy
If you're using the yeast-raised donut recipe here on the blog, there is dairy in that recipe but it's easily replaced. Instead of butter, virgin coconut oil works. In place of cow's milk, unsweetened nondairy milk works.
If you're using the donut recipe from Bakes Bread, there really is no true equivalent for the dairy ingredients in gluten free bread flour. Stick with the recipe from the blog!
Eggs
If you're using the donut recipe on the blog, you will need to replace both one egg and one egg white. I have suggestions in that recipe's Ingredients and substitutions section for replacing each.
If you're using the donut recipe from Bakes Bread, there is one egg in the recipe. You should be able to replace it easily with a "chia egg" (1 tablespoon ground white chia seeds + 1 tablespoon lukewarm water, mixed and allowed to gel).
The post Glazed Gluten Free Donut Holes appeared first on Great gluten free recipes for every occasion..