Air fryer chicken nuggets are absolute perfection! They are crispy on the outside, tender on the inside, and are just waiting to be dipped in any of your favorite sauces! Your family will go crazy over them!
A good, delicious chicken nugget is hard to come by, which is why these are so amazing! They taste as if they are straight from a restaurant. Dip them in some homemade honey mustard, BBQ sauce, or this Yum Yum Sauce and you will see just how amazing they are!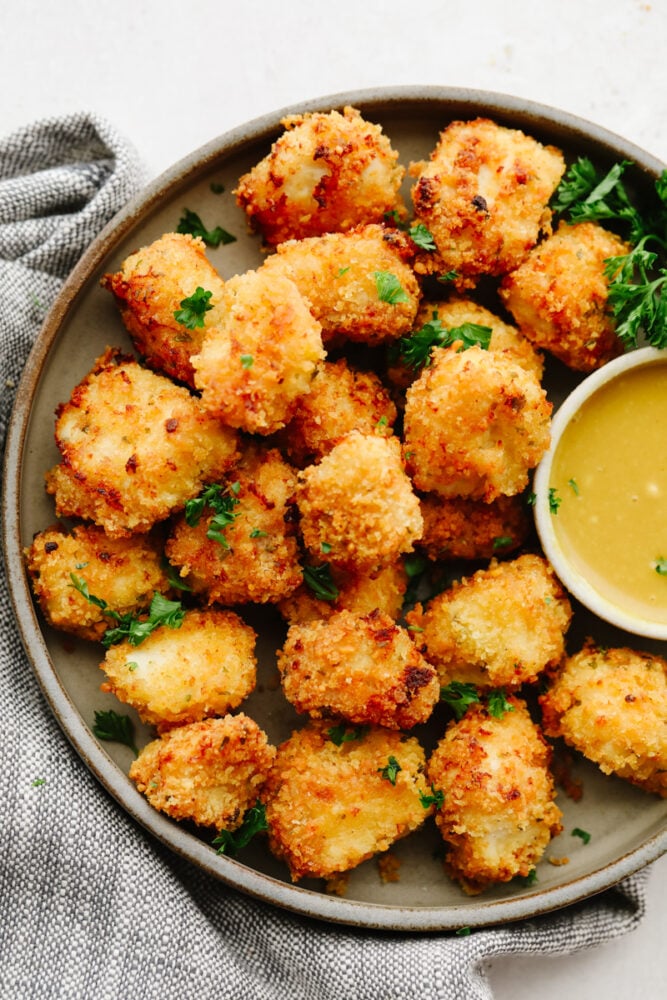 Why Are Air Fryer Chicken Nuggets the BEST?
If you want that perfect texture with a crispy outside and tender inside nugget, then air frying them is the way to go! I tried these and could not believe how delicious they were and how the texture is exactly what I want in a nugget! And then to know that I did it without any oil splatters and mess… Well, that's basically a miracle! These nuggets are so delicious and easy to make!
Not only did I eat these plain (because they are that good) but you can do SO many different things with them! Add them to a salad, dip them in some sauce or eat them with some french fries and lemonade and you will have yourself a meal! You can even cook up a bunch of these at once and eat them on the go. We have so many activities and places to be during the school year and are gone all the time! So these are great to make ahead and heat up to eat on the go! You will absolutely love these and your family will too!
What Do I Need to Make Air Fryer Chicken Nuggets?
These nuggets are made up of a bunch of ingredients that you probably already have in your pantry! Mix them up and then you'll be ready to start! See the recipe card below for a list of exact measurements.
Chicken breast: Cut up the chicken breast into cmall cubes. Make them all about the same size so that they cook evenly.
Flour: I used all purpose flour for this recipe!
Salt and pepper: I used this right before baking to season the nuggets.
Olive oil: If you don't have any olive oil the you can use melted butter instead!
Garlic: Mince up some fresh garlic cloves. If you don't have any, you can use minced garlic from your fridge. ½ tsp equals about 1 clove of garlic!
Panko: The pank bread crumbs give these chicken nuggets the best crispy texture.
Parmesan: This adds to that crispy texture and tastes delicious.
Dried parsley: I like to used parsley to flavor it. It gives a similar taste to restaurant nuggets!
Paprika: Paprika is a sweet spice that I love to use in this coating.
How to Make Air Fryer Chicken Nuggets
These air fryer chicken nuggets are fast, easy, and can be made ahead of time! They taste delicious and I can't believe that they are made to taste this good without being fried in oil!
Whisk and combine: In a small bowl whisk together the flour, salt and pepper. In a separate small bowl whisk the oil and minced garlic. In another small bowl combine the Panko, parmesan, parsley, and paprika.
Dip and coat: Place the tenders in the flour mixture, then the oil, and lastly the panko. Make sure to evenly coat each one.
Place in air fryer: Spray the air fryer basket with oil and place the tenders inside.
Cook and flip: Cook the at 400 degrees for 7 minutes, then flip and cook another 7-10 minutes until crispy.
Enjoy: Serve warm with homemade honey mustard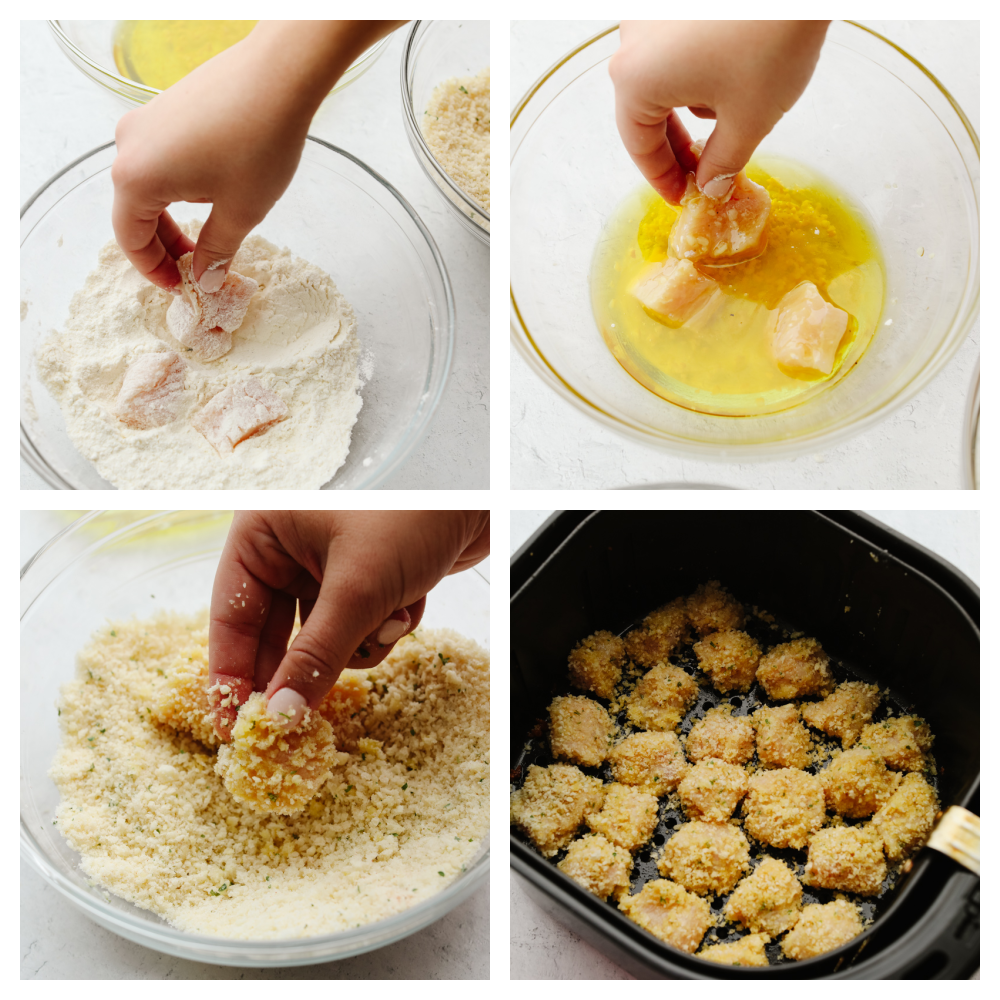 Air Fryer Tips
If you have never used an air fryer before or you have but want some tips, then this should help! I have come up with a few of my top air frying tips for you! It will make this so much easier!
Preheat: If you heat up the airfryer before you use it to cook with, then it will help your food be crispy on the outside and tender on the inside. Just turn your air fryer to the temperature of your recipe and leave it like that for at least 5 minutes before putting any food in it!
Don't overlap: When I place things in the airfryer, I make sure that they are in a single layer and don't overlap. This may take a few more batches of cooking but it will be worth it. If you stack your food then it sticks together and becomes mushy. Then it won't cook poroperly and won't be crispy!
Less oil: It seems like it would be the opposite but less oil is better. The less olive oil that you use on your food the crispier it will be!
Dont forget to flip: Make sure that halfway through cooking, you take the tray out of the air fryer and shake it and flip the nuggets. Then they get cooked evenly and they will be fully crisp!
Olive oil: Use regular oil instead of extra virgin olive oil. This is becaue the extra virgin olive oil will smoke a lot more!
Can I Make These Ahead of Time?
One of my first questions, when I am cooking for my family, is this! So anytime that I can cook a recipe ahead of time, it's a winner in my book! You can cook these air fryer chicken nuggets and eat them later and here are the instructions on how to do it!
Cook: Put these together and cook according to the recipe card.
Refrigerator: Store in your fridge in a sealed, airtight container. These can last in your fridge for uo to 2 days.
Freezer: After your nuggets have cooled, place them in a ziplock bag or an airtight container. Label it with the date. These can last in your freezer for up to 2 months.
Reheat: To reheat your nuggets, take them directly out of the fridge or freezer and place them in a preheated air fryer. Then, cook them for 10-12 minutes at 400 degrees. Don't forget to flip them halfway through!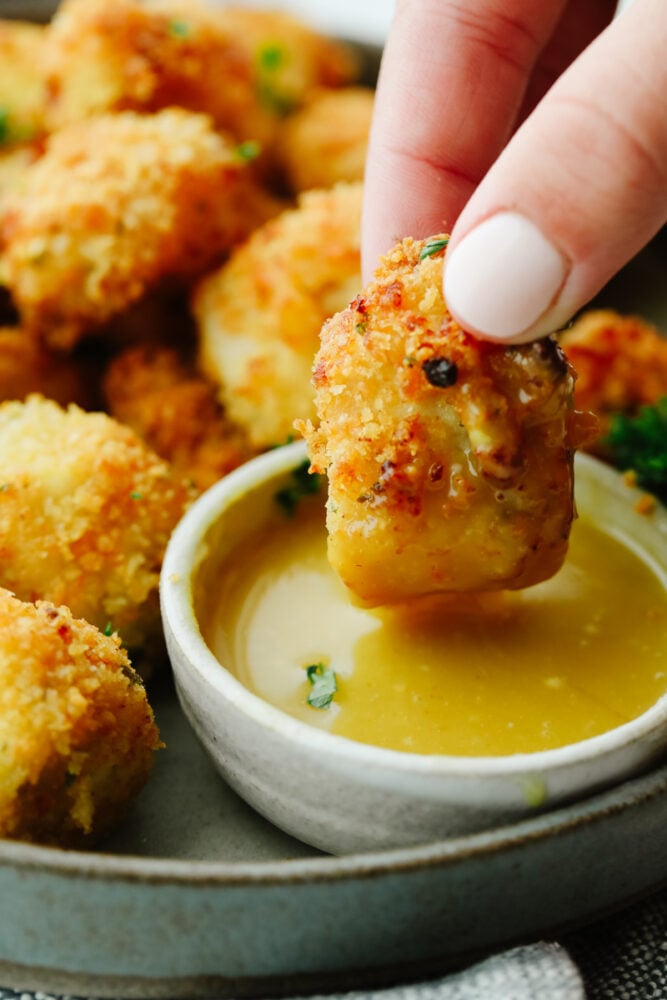 Print
Air Fryer Chicken Nuggets
Air fryer chicken nuggets are absolute perfection! They are crispy on the outside, tender on the inside, and are just waiting to be dipped in any of your favorite sauces! Your family will go crazy over them! 
Ingredients
1

pound

chicken breast

cubed

1/2

cup

flour

1/2

teaspoon

salt

1/4

teaspoon

pepper

1/4

cup

olive oil or melted butter

3

cloves

garlic

minced

1

cup

Panko

2/3

cup

grated parmesan

1

teaspoon

dried parsley

1/4

teaspoon

paprika
Instructions
In a small bowl whisk together the flour, salt and pepper. In a separate small bowl whisk the oil and minced garlic. In another small bowl combine the Panko, parmesan, parsley, and paprika.

Place the tenders in the flour mixture, then the oil, and lastly the Panko. Make sure to evenly coat each one.

Spray the air fryer basket with oil and place the tenders inside.

Cook the at 400 degrees for 7 minutes, then flip and cook another 7-10 minutes until crispy.

Serve warm with homemade honey mustard
Nutrition
Calories:
321
kcal
|
Carbohydrates:
24
g
|
Protein:
34
g
|
Fat:
9
g
|
Saturated Fat:
4
g
|
Polyunsaturated Fat:
1
g
|
Monounsaturated Fat:
2
g
|
Trans Fat:
1
g
|
Cholesterol:
87
mg
|
Sodium:
788
mg
|
Potassium:
501
mg
|
Fiber:
1
g
|
Sugar:
1
g
|
Vitamin A:
241
IU
|
Vitamin C:
2
mg
|
Calcium:
226
mg
|
Iron:
2
mg