These never-fail bakery-style gluten free vanilla cupcakes are incredibly moist and tender. They can even easily be made dairy free, too!
Cupcakes are not really mini cakes (exactly…)
Did you know that not all cake recipes make good cupcakes? It's true! Just like not all muffin recipes can be made as quick breads (or vice versa).
When you bake cake batter in miniature portions, even if it bakes flat in a round or square cake pan, it may dome quite a bit when portioned into the wells of a cupcake tin.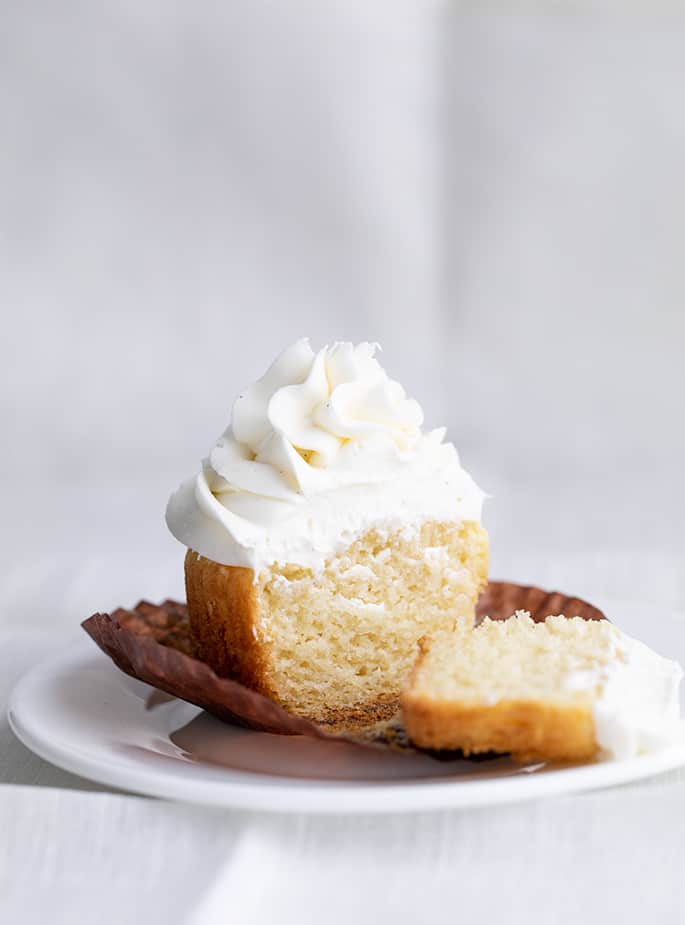 Tips for making these gluten free cupcakes
I like a cupcake with a nice, flat top, so it's easy to pile on a nice fluffy frosting. You can see for yourself that this recipe for gluten free vanilla cupcakes is the perfect frosting delivery system.
My recipe for the very best gluten free vanilla cake is truly perfect in every possible way—and it does happen to make very nice cupcakes. But it requires some sifting and other fussiness in the method, and the cupcakes don't bake up as flat.
These gluten free vanilla cupcakes effortlessly rise into a flat top, and don't require any sifting of the dry ingredients.
Just be sure not to overfill the wells of the cupcake tin (2/3 of the way full is absolutely perfect), bake at no more than 325°F, and only until the tops spring back when pressed very lightly in the center. The toothpick test is not the best test for doneness here.
Do gluten free cupcakes taste "different"?
No! Well, they certainly shouldn't have a strange aftertaste or a gritty mouthfeel. They should have a moist and tender crumb, just like you'd expect from a cupcake in a bakery. A good bakery!
If you've had gluten free vanilla cupcakes in the past and found them to be "good, for gluten free," then you weren't eating the right cupcake, made with the right recipe and ingredients.
A gritty mouthfeel is from an all purpose gluten free flour blend made with a gritty rice flour. A strange aftertaste or mouth feel mean likely mean the flour wasn't good quality and well-balanced.
A dry cupcake might be made with the wrong recipe, so the ingredients were poorly balanced. Or, again, the flour blend wasn't good quality.
Which gluten free flour is best for cakes?
The best gluten free flour blend for cakes is a combination of Better Batter gluten free flour, which can be replaced in all cases with my mock Better Batter all purpose gluten free flour, and cornstarch. All cake flour, including gluten free cake flour, contains cornstarch.
In conventional cake-baking, cornstarch is used to reduce the amount of gluten formation in baked goods. In that way, it makes for a lighter, more tender result.
In gluten free cake-baking, cornstarch is used to soften the blend because, once combined with liquid, it becomes gelatinous. It helps create a flour blend that expands during baking and creates a more tender crumb.
The best frosting for the best cupcakes
Although I do love a traditional buttercream frosting, my favorite vanilla frosting is this "Best" Vanilla Frosting. It's a cooked flour frosting that can be made in stages.
Instead of relying upon confectioners' sugar for the proper consistency, a cooked flour frosting has significantly less sugar than buttercream. And it's soft and velvety, but still stable at room temperature.
I haven't ever tried making it with dairy-free butter, I'm afraid. I bet it would work with butter-flavored Spectrum nonhydrogenated shortening, though.
Ingredients and Substitutions
Dairy
These cupcakes can easily be made dairy free by using vegan butter (my favorite brands are Melt and Miyoko's Kitchen), or butter-flavored nonhydrogenated vegetable shortening in place of butter.
Any unsweetened nondairy milk works well in place of cow's milk. I like unsweetened almond milk because it has some fat and is less watery than some nondairy milks.
These cupcakes are more tender with buttermilk. If you're dairy free or don't have buttermilk, you can make a buttermilk replacement with half milk (dairy or nondairy) and half plain yogurt (dairy or nondairy) by volume.
Eggs
It's a little tricky to replace the egg and egg white here than it would be if the recipe called only for whole eggs. I haven't tried it, but you can try replacing the egg and egg white with 1 1/2 chia eggs.
Be sure to use ground chia seeds, not whole seeds, though. And avoid flax eggs, particularly in a recipe as simple as this, as flax has a strong flavor.
The post Gluten Free Vanilla Cupcakes appeared first on Great gluten free recipes for every occasion..