This creamy, fluffy no bake cheesecake with gelatin sets up quickly, and has the flavor balance of cream cheese and sour cream. Always smooth as silk.
How to set a no bake cheesecake with gelatin
The only essential ingredients in a classic, baked cheesecake are cream cheese, sugar, and eggs. You make it a gluten free cheesecake by baking it in a gluten free graham cracker crust, and making sure any starches you add are gluten free.
The eggs in a classic cheesecake provide structure to the cheesecake when they're baked. They're what make it into a cake that you can slice.
So how do you set a cheesecake without eggs? Here, we use some powdered gelatin to make a no bake cheesecake that sets even more cleanly than a traditional, baked cheesecake.
All you do is "bloom" the gelatin in some lukewarm water by mixing them together and waiting for the gelatin to swell. Then, melt the mixture in the microwave until it's liquefied, but not hot.
The mixture of cream cheese and sour cream, with some sifted confectioners' sugar, makes for a silky smooth cheesecake with a slight tang. There's not a ton of confectioners' sugar, so it's never too sweet.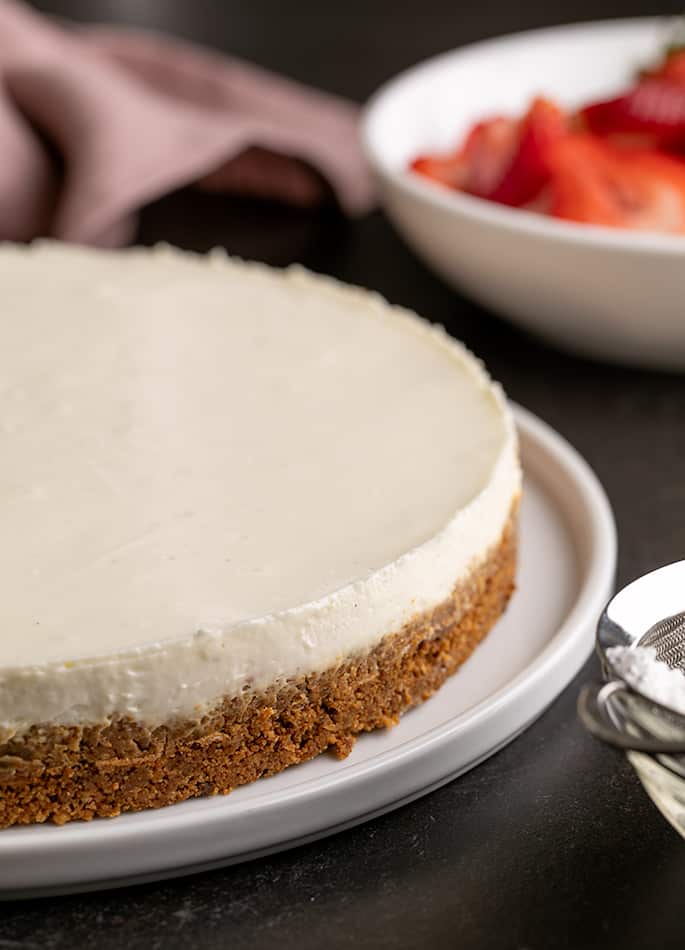 What can replace gelatin in this no bake cheesecake?
If you can't have gelatin, you might be able to use agar agar, which is a vegan replacement for gelatin. One Green Planet has a whole primer on agar agar, and they suggest that you can replace gelatin with it in equal amounts.
For a fluffier cheesecake that doesn't rely on gelatin, you can try the no bake cheesecake filling from our gluten free cookie cups. It calls for whipped cream in place of sour cream. It won't slice as cleanly, but it still tastes great.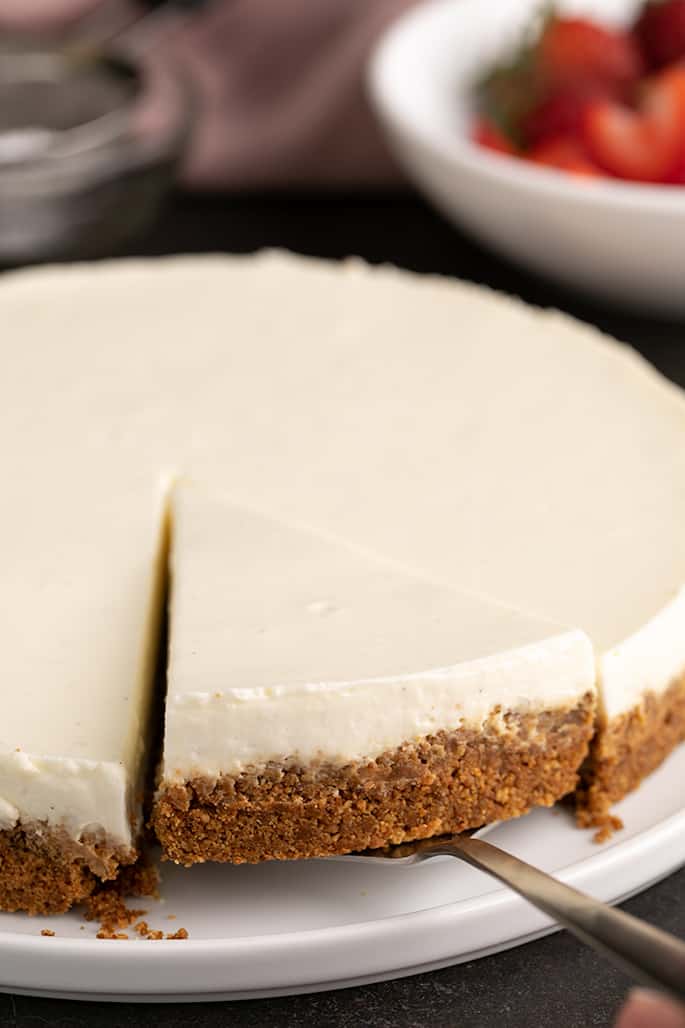 How easy is it really?
This recipe is so dead simple that I almost could have made the how-to video above in real-time. Still, you'd be surprised how unbelievably boring it is to watch someone mix something for even, like, 10 whole seconds. ⏲
But I did time myself while making this no bake cheesecake recipe, exactly as written. It clocks in at 10 minutes flat. And that's only if you factor in crushing the cookie crumbs for the crust in a mini food processor.
It doesn't include cleaning the dishes, though. You'll have to do that on your own time! But this recipe is easy enough that I bet your kids could make it for you while you leaf through a magazine or something.
Ingredients and substitutions
Dairy
Cheesecake is, by its very nature, made with tons of dairy. This recipe not only contains tons of cream cheese but also calls for sour cream. Plus the crust is made with cookie crumbs and melted butter.
If you use dairy-free cookie crumbs, like from my gluten free graham crackers, and use virgin coconut oil or butter-flavored Spectrum nonhydrogenated vegetable shortening in place of butter, you've got a dairy-free crust.
The sour cream could be replaced with a dairy-free variety. But the cream cheese is a major problem.
I've been working quite literally for over a year on a really good dairy-free cheesecake—no bake or not. I mean, I've taken breaks so it's not like I haven't been doing anything else. But I have tried time and again to make an amazing dairy-free cheesecake. So far, no luck.
The main problem is that even the "best" dairy-free cream cheese varieties (like Daiya and Kite Hill brands) just taste kind of strange when you use more than about 4 ounces of them in a recipe. I've tried making cheesecake with the same amount of dairy-free cream cheese as I would dairy cream cheese, and it's been nearly inedible.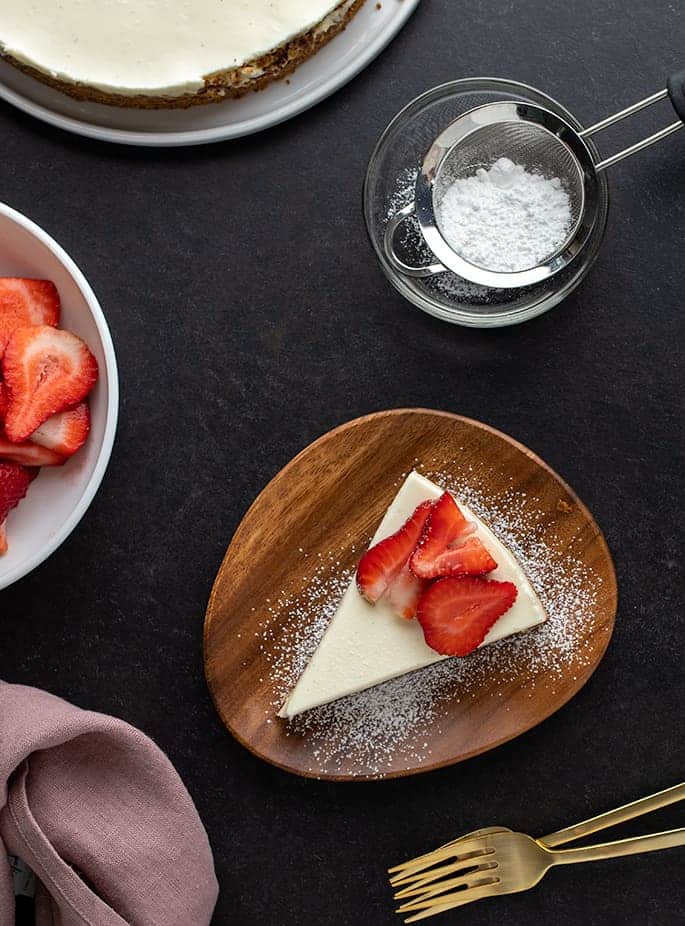 Sugar
If you'd like to make a sugar free crust, you'll just need to use sugar-free cookies—or leave out the crust entirely. Try replacing the confectioners' sugar in the filling with Swerve brand confectioners' sugar replacement.
The post Easy No Bake Cheesecake with Gelatin appeared first on Great gluten free recipes for every occasion..